On Purpose helped as an outreach partner for the distribution of menstrual cups through the #LetsTalkPeriod in Sur Nirman, Jhuggi Camp , Patparganj. Shrey is an intern with On purpose and accompanied through the same on December 14th 2017. Here is his first person account of his experience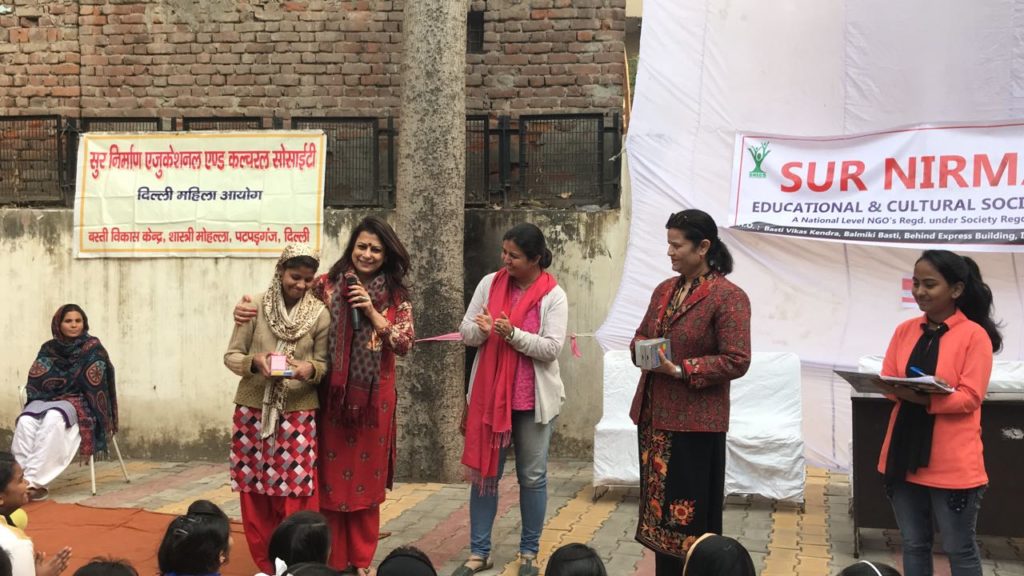 WomanEndangered (WE) organized a drive to distribute menstrual cups and sensitive women about feminine hygiene. Menstruation still being a taboo subject, the #LetsTalkPeriod campaign is aimed to affect a change in mindset . This was the second meet organized by WE at Patparganj. The first was a few months back focusing on feminine hygiene.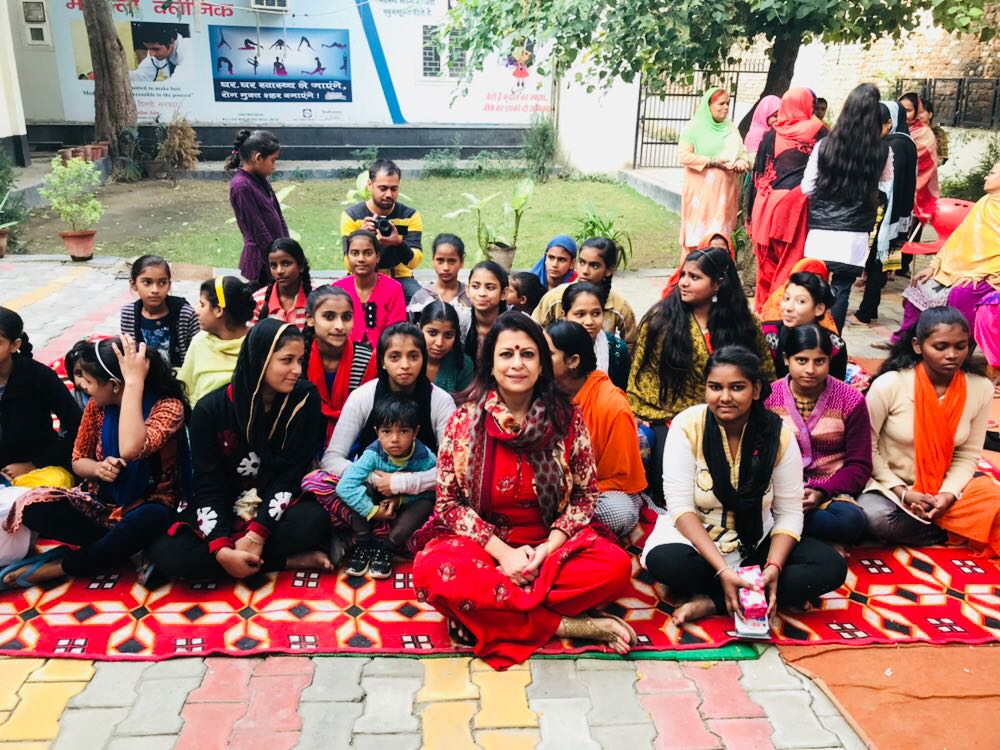 Walking through the dusty lanes, the stench and dirt is hard to miss. The roads have been dug up from both the sides and a narrow stretch of 1 metre is what's left to navigate through. All kinds of travelers navigate on this stretch- from the school girls to the holy cow, from the ferocious dogs to the young adults with dreary eyes.
Five minutes later I enter a compound. The veranda is clean, chairs are neatly arranged for the meeting and posters reading Mahila Panchayat organised by Delhi Mahila Aayog and supervised by Sur Nirman- Educational and Cultural Society welcome us.
I am not going to talk about the torment women have faced since time immemorial but what I will highlight here is the stigma still attached to even talking about a natural bodily function women experience every month. Suparnaa Chadda, founder of WE, pointed out 'No one is hesitant to talk about facial hair and shaving but when it comes to periods, it is something shameful to talk about.' This shame and hesitation to talk about periods results in various hygiene and health problems that women could suffer from. Suparnaa states that it is a sign of a healthy body and a natural mechanism to detox the body- a blessing for women, not shame!
WE beautifully talks about periods using the power of music i.e.  sargam ke saath sur- sa re ga ma pa dha ni sa. Each sur is an abbreviation for the health tips to be followed while a woman is on her period. Sa stands for suti kapda (cotton cloth); wearing cotton clothes during period so that there is no rash or itching in the pelvic region, ga stands for geela kapda  (wet cloth); do not wear wet clothes during period. ma stands for mahavaari (period); use sanitary pads or cups during periods. Pa stands for pyaar (love); wash pelvic region after sexual intercourse. Dha stands for dhona (wash); wash hands and pelvic region after visiting the washroom. Ni stands for khaana (food); consume nutritious food, preferably home cooked meals, especially while on period.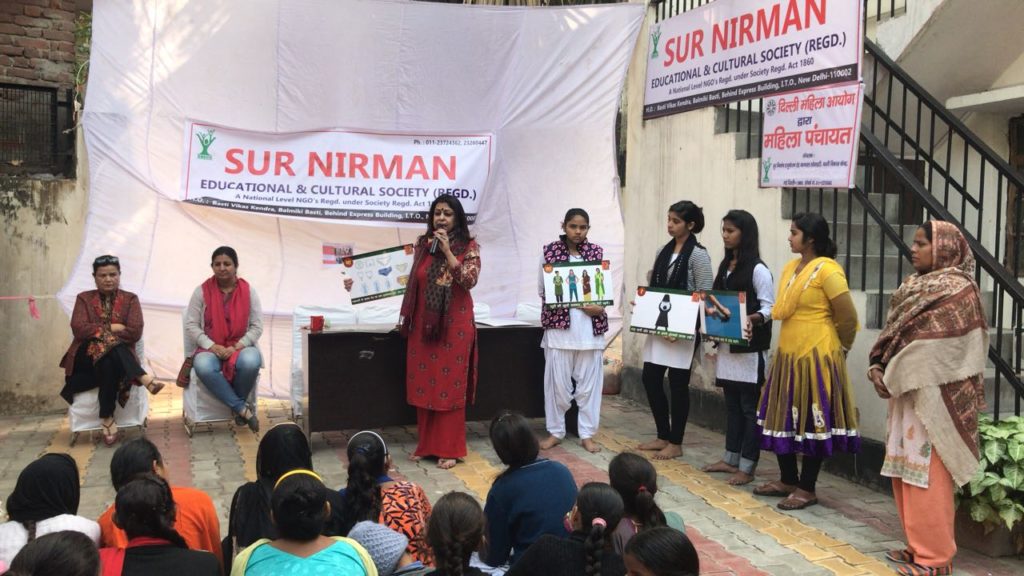 Along with sensitising women about periods WE is also promoting the use of menstrual cups over the sanitary pads. Sanitary pads are non-biodegradable and could also cause infertility in the long run. Menstrual cups, on the other hand, do not cause any problems in the long run since it does not have any chemicals. It can be used for 10 years effectively, saving a lot of money that would have been spent on buying the sanitary pads. Women can also take part in activities such as swimming wearing the menstrual cup. The cost of these cups in the market is INR 900 but WE distributed 70 such cups in Patparganj at the cost of INR 10, to ensure a value association and long term usage of the cup.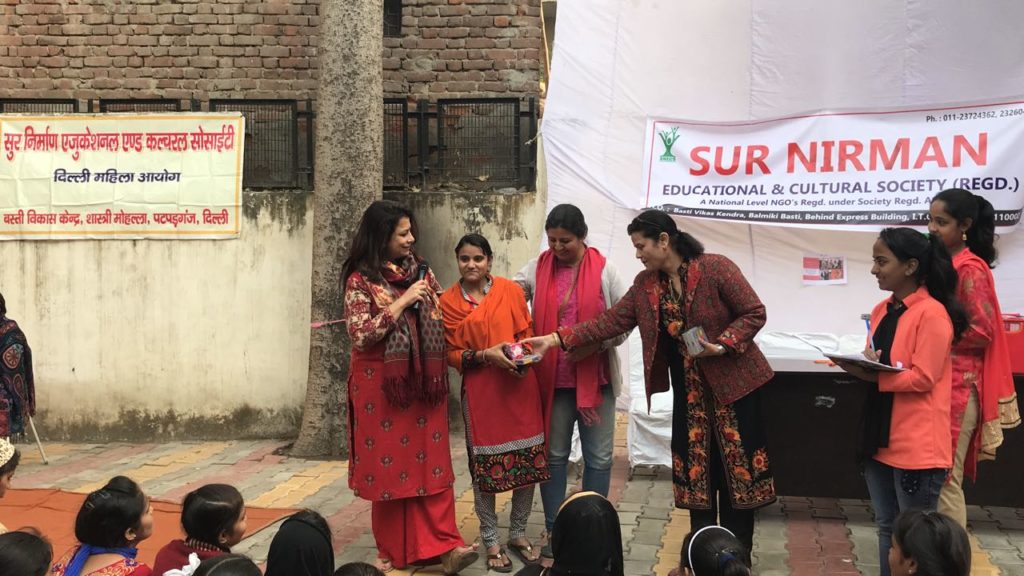 The event was unique since it was attended by 70 women, all from the underprivileged sector, indicating that there is scope to take up this issue across different sections of society. Suparnaa and her team will visit the camp again after 3 months to take feedback from the women to whom the 70 cups were distributed.
This is a battle against changing the mind-set and is a tough road to take. WE has taken the mantle to bring about a change in the society and this meet did change the way I looked at periods.
Come on India, #LetsTalkPeriod!
comments