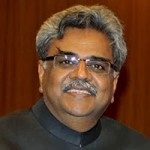 Umeshwar Srivastava
Founder of the Shree Shakti Consciousness Foundation (SSCF) that aims to achieve a better quality of life holistically by empowering individuals with knowledge and skills that improve their overall well-being. SSCF has partnered with Hanns Seidel Foundation, Govt. of Germany, to deliver civic empowerment and literacy development programs across India.
The other activities of the Foundation are: Education, Women Empowerment Vocational and Rights Awareness Program, and Wellness and Alternate Healing.
Besides active participation in SSCF, Mr. Srivastava is Visiting Faculty in the Department of Management , Indian Institute of Technology, IIT Delhi He is also an Ex Board Member of the Indian Society for Trading and Development (ISTD) , Diploma Board, ExPresident and Board Member of The Venu Eye Institute and  Research Center, Member of The PHD Chamber of Commerce, Confederation of Indian Industries, Institute of Electronics and Telecommunications Engineering and a charter member of The Lions Club (Delhi) Cantt.
Some positions that Mr. Srivastav has held are:
Managing Director Accton Ei-En India Pvt Ltd and EiEn India Pvt Ltd), Director Sales and Marketing
GESS and Advisor GEST(Singapore), Country Manager Representative South Asia:- Telecom Australia :Telstra, General Manager  Telecom Project Telecom Australia & IEPC Ltd. Joint Venture for OFC, South Asia Head:-AP Wireless Inc, Texas USA, Country Manager:- ETL SA and USA ' World Connect ', Director:- The Valona Group of  Companies (Singapore), Advisor ICT:- The Videocon Group, India, General Manager Operations:- IEPC Ltd. (ICT and Tech Transfer)