The story of a Gitanjali Banerjee's battle with infertility and society, shared in verbatim.
I am a regular middle class woman like you who got into arranged marriage at the age of 23 years simply because you must get married when you reach a certain age and when your parents say. After one year of customary honeymoon it was time to hit the next milestone – motherhood. And, with this began the 10 long and gruelling years of fighting infertility. Post 5 miscarriages, 3 molar pregnancies, 1 failed IVF, a brush with ovarian cancer and finally successful pregnancy on second IVF attempt- I stand here in front of you to openly talk about my Infertility journey.
Today, I have little AB baby to shower my love and enjoy the journey of motherhood but I can never forget the pain and suffering, the loneliness, the depression and the desperation, the feeling of being cut-off from society and the turmoil  suffered within, during this journey. It has made me who I am today. It is a very important part of my life and my personality.
It was not easy to open up my extremely personal story and discuss this taboo subject. I had fears – fears of being tagged and judged by the society. My tryst with infertility over a period of 10 years has convinced me that there are a lot of women out there who suffer in silence and one must reach out to them. There is an urgent need to reach upto them and tell them, "You are not alone". And, eventually with lot of strength and support I managed to overcome all fears and hesitation and, started InfertilityDost this year. The website was officially launched in August 2016 though the idea and preparation had started way before. I first tested waters with a facebook group and the way women opened their hearts and spoke, convinced me further on the need for a bigger platform.
There are many layers of suffering through the process of   IVF – medical, physical, mental, psychological, financial, and social that leads to marital discord, falling into depression, even to the extent of getting suicidal, cutting oneself off socially, and a lot of trauma. There are cycles of hope and frustration. There are choices to make. There are tough decisions to take. I have been through all this. The path to IVF is no easy task. Only the brave can tread through. And, today through this blog I want to salute each and every couple who is or has been through IVF.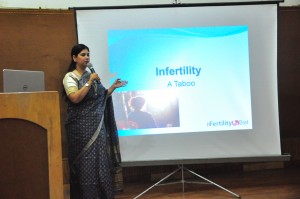 Academically, I am a JNU pass out (so feminism runs in my blood innately) and a professionally I have been involved in the e-commerce space for over 8 years now. I started as a content writer  picking odd content jobs from sites like odesk and Elance. Thereafter, I learnt the art and worked with brands like MakeMy Trip, Educomp and Policybazaar in their content marketing space with the last designation as Content Manager. I did climb up the ladder quickly! I realized I was passionate about blogging and how it can cause difference to people's life. I have a travel blog, Travel By Karma where I share my tell-tales about offbeat destinations and experiences. Well, as God would want it I had a burning desire to do something about people suffering infertility for I had experienced the pain first-hand and then I had blogging skills. I found my true calling in combining this to create awareness and support for infertility.
Infertility Dost is a part of my life, it is my dream, my passion and my true calling. I wish to reach out to as many people as possible through this. And, if can reduce pain and suffering of even a few couples undergoing this journey, if I can make the society even a little bit sensitive, I will know that my life was worth living.
That's my story.
Gitanjali Bannerjee, Founder Infertilitydost.com

Our Social Media Presence
Website: http://infertilitydost.com/
Facebook Group: https://www.facebook.com/groups/InfertilityDost/
Facebook Page: https://www.facebook.com/infertilitydostindia/
Twitter: https://twitter.com/infertilitydost
Media Kit: http://infertilitydost.com/media-coverage
comments