'Hello'
'Hi Ma'am, this is Arpit bhalla from the Gender Equality cell of Hansraj College. I want to invite you as a speaker to the Femme festival on 6th February. I know of the good stuff you do around menstrual hygiene in slums and it would be great if you can take a session through the Femme festival in college too'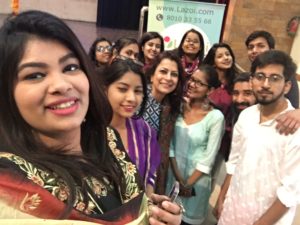 'I would be very happy to!'
'Thank you so much Ma'am!'
An enthusiastic voice over the phone of a student, a few weeks back, was all it took for me to say yes to be a part of this unique initiative recently held in North Campus. Being the mother of a college going student myself, I had first hand appreciation of the effort kids made through their cultural fests. Full of energy and passion and a strong will to affect change, I personally condone all such efforts.
And here was something so close to my heart.
Come 6th February , I was much enthused to be a part of the festival and am sharing here some highlights of the afternoon. They speak for themselves and in bits quite literally leave the observer speechless. I promise it will be well worth your time.
The Festival of me – LET'S TALK FEMME
The  festival started with Asmita theatre gathering their audience and leaving them spell bound with their 80th performance of street play 'Pehchaan'.
#LetsTalkperiod, a session on menstrual hygiene, aims to address taboos which essentially lead to misinformation that in turn may lead to health hazards. This is part of the ongoing dialogue the Woman endangered aims to maintain to effect a change in mindsets. The session helped 2 NGO's present at the festival, to change their strategy of distributing sanitary napkins and considering healthier/sustainable options of cups or cloth pads.
Vipasha Malhotra entertained the audience with the very witty and lyrical rendition of her song 'Feminism must Die'
There were many more sessions that included Grace Banu , the first transgender in technology in India, Meghna Mehra a feisty representative of DU & India's first transqueen Nitasha Biswas amidst others. Nitasha is representing our country at the Miss International Queen 2018 in Pattaya on 9th March. Don't forget to like her video and show your solidarity!
comments