Business, Films to Editing a glossy- Archaic mindsets effect us all.
So its been a great month both professionally and personally. At the work front we managed to pull off an event that was fraught with difficulties from the word go. And we pulled it off brilliantly well at that. On the personal front , I took off for the long weekend catching up with old friends doing all that old friends do when they get together after a period of time . Through it all different conversations with 3 successful women sharing their personal stories stood out, stories which are as varied as the different backgrounds they come from. One is a daughter of a successful business family, the second a celebrated actress from the south and now also a politician and the third an editor of the number 1 magazine for the media, marketing and advertising fraternity in the country.
B is one of the 3 siblings from an old moneyed business family. The clan has many brothers, uncles and sisters and a plethora of businesses to take care of. Despite this she took it on herself to prove her abilities individually and is making a mark through her forte of the media industry. As is true for the career graph curve for most, she went through a lean period which had her wishing she was also viewed with the same privilege that the male siblings of the extended joint family enjoyed. Her story is simple. While individual businesses were being set for all of the male siblings irrespective of age or education, her joining was never really an option to be considered. Not that she didn't have all the perks coming from a well settled family, but it always has been an unsaid norm for her to get married and move on with her aspirations as per her future family in law.
D who shares the second story, has been a revered film actress of the Kannada world. She further also won an election and became the youngest MP at the time. Some peg her to be the future CM of the state. Her story highlighted the plight of actresses in the South of India who apparently were never paid or at least paid in commensurate with their efforts. Over a decade back when she joined the industry such was the norm that none questioned, not even the exploited. Most accepted it as a package deal for the oppourtunity to star with the big guns. When D put her foot down and took on further projects only when she was paid for her past due, the producers held the threat of dropping her and take on another profile who was accepting of this industry norm. Well, as luck would have it all the films that D did were super hits and the producers didn't want to take the chance of upsetting her lest ill fate befalls the movies. The situation has since improved, to at least having the actresses being paid but to compare that with their male counterparts is still a far cry.
The third and final story is that of S, a feisty editor of a glossy. Vocal and a no nonsense persona who interacts with the media and advertising fraternity on a daily basis. We caught up for lunch and she spoke about her strained relation with her father who is no more and now her brother. Raised in a middle class Bengali family, disparity between the 3 girls and the son was the only way they knew. Venturing out to support herself after turning 18 she became completely self reliant with the writing assignments she took on to pave her way through her career. While the mother and daughters shared a great bond, but she passed away way too soon. The father of course doted on his only son supplementing his income for family of a wife and 2 children while all 3 girls were left to fend for themselves. And sure enough post his death the brother promptly advertised in the news paper of his home town, declaring himself to be the only surviving heir to the family home, effectively pronouncing all 3 sisters dead.
A media professional from a business family, an actress turned politician and an editor of a glossy. 3 very separate worlds but one common thread binding them. That of the inequity bestowed on them by the society we live in merely because they were born girls. An unequity that effects them both at work and in their personal lives.
The more focused discussion one has around our immediate surroundings, the more evident it gets that gender disparity is not somebody else's problem in some far flung area. It is real and very close within our homes. More and more women need to break their numbing silence to share their stories to be able to address these issues for a long term change that we seek.
Feminism is not a catch phrase for angry women to put men down. It is the root-cause that takes expression at their worst as heinous crimes against women. Some, which women themselves may be participant to, leveraging the position of power that is endorsed in supporting such patriarchal mindsets. Time to point the fingers backwards.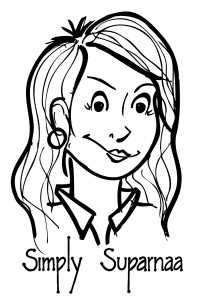 comments